Professional Mulch Installation with Landscape Clean-up and Repair.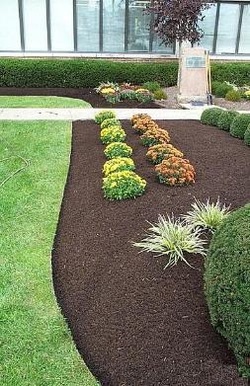 We deliver and install all types of mulch for the greater Grand Rapids, MI area.
Not all installation is done correctly
. See our blog post,
"Proper Installation of bark mulch: How to avoid common mistakes."
Beyond just throwing down a new layer of mulch
, we will insure that your mulch base is not too thick, we will inspect your plants, adjust or repair your landscape border, inspect for pest damage, and provide you with any suggestions for protecting the health and beauty of your landscape.
Our schedule of mulch installation fills up fast once the first nice weekend arrives, To insure you get your mulch installed professionally and early, contact us today. Don't wait.
What we recommend
: Our most common mulch applied is dark brown color enhanced. This mulch will look nice all season long. Dark hardwood mulch will fade in as early as two weeks, looking dull and old. A natural dark color-enhanced mulch will
hold its color for up to two seasons.
Color enhanced will break down slower as well. Most of our customers can get two seasons out of color enhanced as opposed to one season for typical dark hardwood.
Another option that is a bit more costly is cedar mulch which also holds color and lasts longer but also has been known to discourage pests.
TO SEE MULCH COLORS AND TYPES
, please visit a local nursery. Colors of photos on the web can appear different from one computer monitor to another. The best option is to check out the product from the source. Give us a call and we can send you to a place nearby with quality products.
---